Lion Garage Door – Trusted Garage Door Repair Partner
Do you need garage door repair for your home or office? The garage is easily one of the most important components of a residential or commercial building. So it's important for the unit to be maintained and repaired correctly. Our company can provide all the repair services you'd ever need for your garage door even when it's an emergency.
Top Features/Benefits of Garage Doors
Why is it important to have your garage door repaired as quickly as possible? Here are some of the main reasons:
1. Value
How important is your garage to your home's overall aesthetics? When making home improvements to your home it's one of the best ways to boost your house's curb appeal. The average cost of a garage is about $20,000 and there's a good chance you'll recover the cost by boosting the total value of your home after installing it. In some cases you can even turn a profit based on factors like the quality.  It's certainly one of the best options if you want to increase the resale value of your home.
However, it's worth noting a garage can also improve the "curb value" of your home. It's not a non-monetary value that's determined when someone sees your home from the curb, stairs, street, etc. This is critical for situations when you have guests over for events. However, it's even more important if you plan to sell your home. In that case the resale value of your home is critical. In some situations it's practical to "keep up with the Joneses." For example, the resale value of your home can drop considerably if all the other houses on your home have a garage.
2. Security
This is one of the most important reasons you should get your garage door fixed when it's damaged. In fact, it could cause an emergency situation depending on how serious the damage is. A garage can provided extra security for your vehicle and other stuff you want to store in it. The problem is the security could be compromised if the garage is damaged. If there's major damage it can make it a cinch for potential thieves to break into your garage.
So the opportunity costs can be quite high if you don't fix the garage door quickly. Our company can fit your garage door at any hour of the day. So whether it's early in the morning or late at night we can help to make sure your door is fully functional. This is important to make sure you can enjoy the maximum amount of convenience, value, and aesthetics the garage door repair can provide. 
3. Convenience
When you're driving home it's important to get from your vehicle as easily as possible. This is one of the key reasons garage door repairs are so critical. When garage doors are working properly the push of a button is all you need to park your car or truck in your garage. However, when repairs are needed that's not the case. So it's critical to get your garage door working at 100% in order to get you out of your vehicle and into your home as quickly as possible.
4. Time-saving
If you're like many people today it seems like there aren't enough hours in the day. This makes it critical to get in or out of your garage as quickly as possible. For example, you might have to get started on household chores at night or get to work in the morning. I both situations you'll need the garage door to work as soon as possible.
That will be an issue if your garage door is damaged. The situation can slow down the process of entering or exiting your home. This could end up causing various problems including tardiness at work/school, missed appointments, increased stress, etc. In order to save time it's highly advisable to call our company so we can get your Lion garage door repair VA up and running as soon as possible.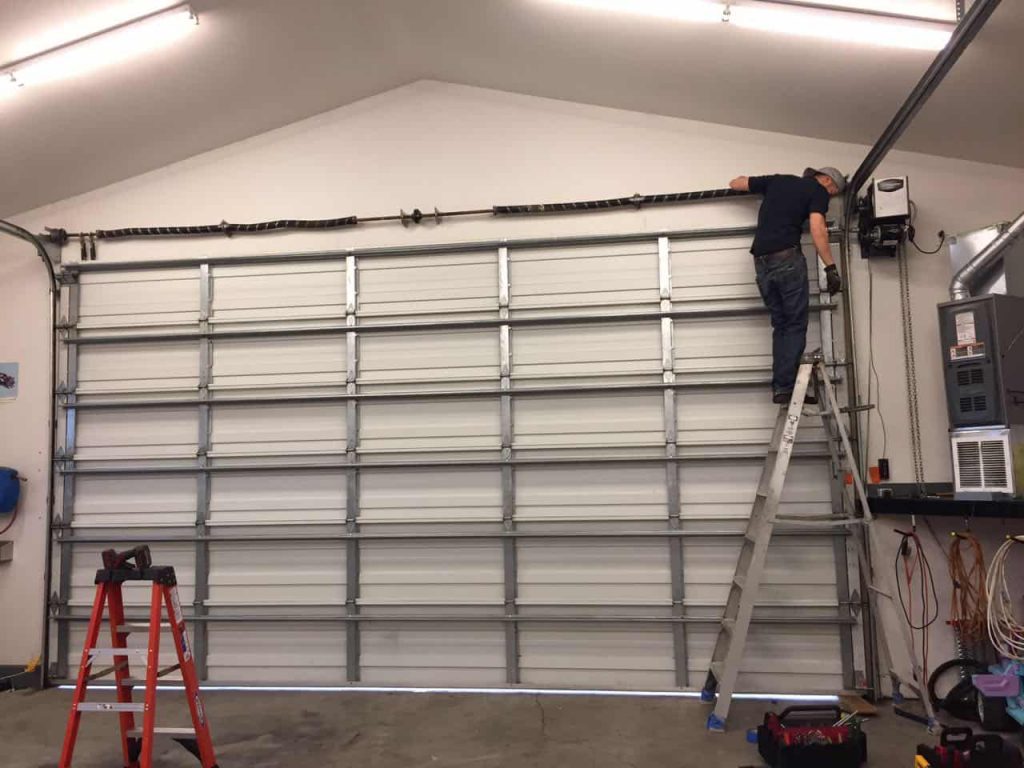 Most Common Garage Door Repairs
Not all garage door repairs are the same. Some can be fixed quickly and others require more time. It's helpful to know some of the most common types of repairs so you'll know what to expect. Here are some of the most common types of repairs:
1. Broken Cables
Cables are important components of any garage door repair Virginia Beach VA. They're made up of individual wires that are bundled to make thicker strings. They're then combined to make a cable. The door's springs produce tension that pulls the door up. This is an important part of the door's operation. As time passes the cables wear down and weaken. If the door hangs at a strange angle or gets stuck while rising/dropping then it's a sign you should consider replacing the cables.
2. Spring Replacement
The job of coiled springs is to make it easier to raise/lower big garage doors. It's important to note the spring isn't technically a component of the garage door opener but is technically part of the garage door repair itself. If the break all you have to do is replace the spring itself. You might want to upgrade to a better quality spring to get better performance and more durability.
There's a few different ways to determine if the spring needs replacing. If the door makes tons of noise when you open it or it's difficult to raise then there's a good chance you should replace the garage door's coiled springs. It's a good idea to contact our company to replace the spring since injuries could result from the installation being done wrongly.
3, Weather Seal Replacement
Weather-stripping is a common repair of garage doors that isn't too complex. However, you should still consider contacting our company to handle the work to make sure it's done right. Replacing the weather seal is important to keep the cold air inside during the summer and the warm air during the winter. It's also important in keeping your garage cleaner by keeping dirt and bugs outside. Those elements can be annoying when you're entering or exiting your garage.